Entrepreneurship and impact workshop series
Date: 24 May
Location: The Hague Tech
PLNT The Hague and YES!Delft are teaming up to offer an exciting opportunity for aspiring entrepreneurs to dive into the world of social impact businesses. The "Entrepreneurship & Impact 101" workshop series aims to equip aspiring entrepreneurs with essential entrepreneurial skills, covering ideation, funding, and pitching.
The workshops are designed to provide participants with practical knowledge and hands-on experience in building successful ventures. Led by experienced industry professionals, the sessions will delve into various aspects of entrepreneurship, including identifying market opportunities, developing business models, and securing funding. Participants will also have the chance to enhance their pitching skills, learning how to effectively communicate their ideas to potential investors and stakeholders.
Moreover, the workshop series emphasizes the importance of social impact, encouraging students to create businesses that make a positive difference in society. By exploring innovative ways to address social and environmental challenges, participants will learn how to align their entrepreneurial ambitions with a greater purpose. Participants can register for one or multiple workshop sessions here.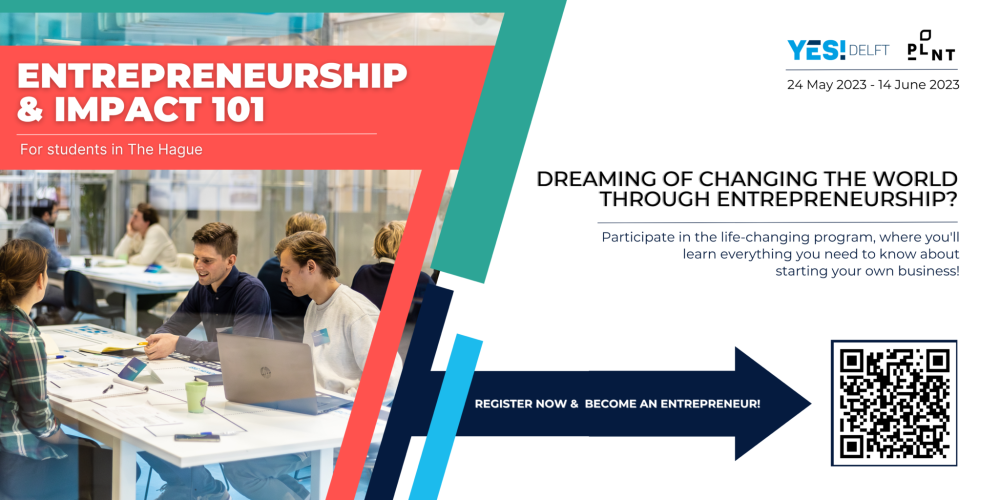 In addition to the workshop series, PLNT and YES!Delft will be hosting an Entrepreneurship Day, an exciting event for those seeking to develop entrepreneurial skills, make connections, and get inspired. The event, featuring inspiring speakers such as successful startup founders and industry experts, will provide attendees with valuable tools, resources, and inspiration for launching successful businesses with a social impact. During the Entrepreneurship Day, participants will have the opportunity to engage in keynote speeches and breakout sessions, enabling them to develop skills in various areas such as ideation, market validation, funding, and scaling.

So, if you're ready to turn your passion into a profitable and impactful business, don't miss out on the "Entrepreneurship & Impact 101" workshop series and the upcoming Entrepreneurship Day.

The dates are as follows:

24 May: WORKSHOP 1: INTRODUCTION TO ENTREPRENEURSHIP AND IMPACT

31 May: WORKSHOP 2: MAKE YOUR IDEA CONCRETE

7 June: WORKSHOP 3: VALIDATE YOUR IDEA

14 June: WORKSHOP 4: PITCH YOUR IDEA

21 June: ENTREPRENEURSHIP DAY

The Hague Tech


Wilhelmina van Pruisenweg 35
2595 AN Den Haag Sign Up